These plans below are for group of people.
Gather up your family, friends, co-workers, and it's time for a Race!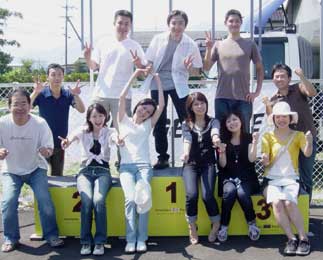 Plans
Duration
Prices
サービス品
Delux GP
Approx 2hrs 30min
\8500 each
3 Champagne
3 Trophies
Standard GP
Approx 2hrs
\6900 each
3 Champagne
Short GP
Approx 1hr
\5900 each
1 Champagne
Mini GP
Approx 40min
\4900 each
Endurance Race
Approx 2hrs
\8000 each
3 Champagne
3 Trophies
Charter
1hr - 1day
\25000 and up
Ask
Reservation
・Making a reservation is recommended for English speaking staff to be at service.
・Please feel free to ask by a phonecall, or an E-Mail.
・Tell us your name, phone number, number of people, date and starting time.
Fees
・Members can get \500 off the price (except for the Charter)
・Champagne can be added for \1500
Numbers
・3+ people to start.
・We have 8 GoKarts for adults. If there are more people, you can split up to several groups.
Limitations
・All the drivers must be above 15yrs old. (Minors must have guardian's permission)
・Kids with Junior Lisence can join, if you can ride on adult's GoKart.
Equipments
・Clothes that are easy to move in. (Long sleeves, and pants are recommended)
・Helmets, and Gloves are free to use (You can use your own, of course!)
・Sneaker is recommended. High heeled, sandals are not good.
Cancellation
・Cancellation fee will be generated 1 week before the race date.
・We'll charge 10% of the race price for cacellations 4days before the race.
・The day before, and up to 3 days. It's 50% of the race price.
・Call off on the race day. 100% cancellation fee will be charged.
■If it's raining....
・You can call it off for free. If it's raining on that particular day.
・You can still race if we permit it's safe to drive.

Others
・Changing plans, opnions, and questions are welcome.
Please feel free to contact us.